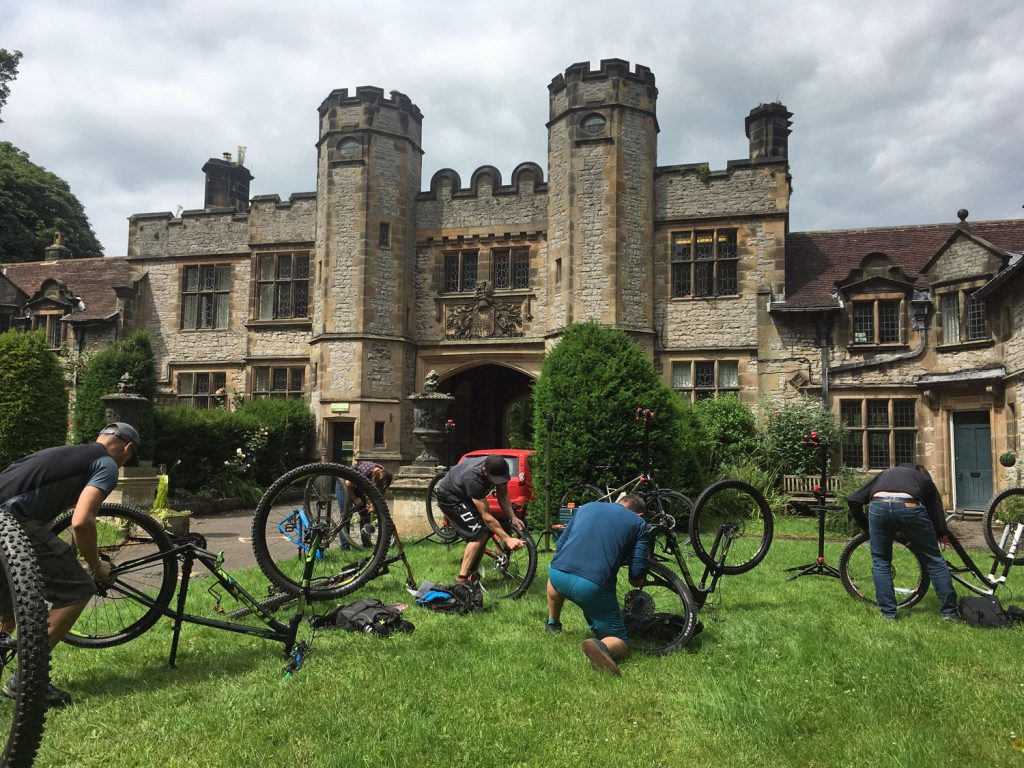 The British Cycling Level 2 Mountain Bike Leadership Award enables qualified leaders to use their experience to safely guide others on off-road terrain. The award is ideal for anyone with experience in mountain biking, who is either working in the outdoor sector, volunteering at a club or simply has a personal interest in gaining additional skills.
We are an accredited provider to run this 1 day assessment and we make the most of our excellent British Cycling approved trainer, onsite bike tracks & skills park, training rooms and our fantastic location in the heart of the Peak District. Following registration for the award, learners complete a two-day training course with a British Cycling accredited provider. This one-day practical assessment then follows after a consolidation period agreed with your tutor, to allow sufficient time for you to hone all the new skills and knowledge that you obtained during training.
Assessment Pre-requisites Set by British Cycling
Be 18 years old or over
Be competent in the techniques and skills required to safely negotiate the typical trail features encountered in the Level 2 environment. As a general guide this is comparable to red-graded purpose-built trails
Register for the award with British Cycling (£116.00 for non-members and £75.00 for existing members, prices correct as of December 2019)
Complete the Level 2 Mountain Bike Leader Award 2-day training course
Hold a current two-day outdoor first aid certificate – such as our Outdoor First Aid
Provide your assessment course tutor with a logbook of evidence of your recent rides in appropriate terrain (we recommend a minimum of 15 quality rides in the 12 months prior to assessment, four of which should be 4 hours or more in duration)
Assessment
Assessment for the Level 2 Award consists of a written assignment and a formal practical assessment.
Assignment
The assignment is designed to let you demonstrate your competence in some of the knowledge and application requirements of the award. It will be sent to you by the licenced provider once you have booked on a specific assessment date. It is usually issued in a written format but we will endeavour to support different formats to support specific learning needs. You will be asked to complete the assignment and return it to the tutor for marking before attending the assessment. Meeting or exceeding a minimum assignment score is one of the requirements for a pass.
Assessment
The practical assessment consists of a full day mountain bike journey (5-6 hours, 40km or more is possible depending on conditions on the day) shared with other candidates and the tutor. During the ride each candidate will be assigned to lead sections totalling around 10km. The assessment route is pre planned by the tutor and is designed to enable you to demonstrate your competence at the limits of the remit of a Level 2 Mountain Bike Leader. You will be expected to fulfil all the assessment criteria of the award including tracking the progress of the group at all times whether leading at that moment or not and could be asked to respond to questions or perform the role of a leader at any time.
You will be expected to provide a flowing journey whilst demonstrating good leadership and navigational skills, using a map as your primary navigation tool. Your group management, leadership and trailside repairs skills will be verified out on the trail by the tutor using a combination of real situations and simulation based questioning and practical sessions.
The assessment is designed to put learners under a proportionate level of pressure that reflects the role of a Level 2 Mountain Bike Leader. The tutor will facilitate your assessment throughout the day to also encourage an environment of continuous learning. They will support all learners to understand where their personal skill set meets the qualification requirements including explaining where and why, if it is not yet at the required standard. All learners will be provided with personal action plans for future development after the assessment.
Referral and Reassessment
It is the intention that you are provided with enough information and guidance through training and prior to assessment that you are able to be successful. There are however occasions where this may not be the case and referral can occur. Depending on which criteria have not yet been met a variety of actions can fulfil a future reassessment, for example written evidence, a one to one demonstration with a tutor or attendance at a new assessment opportunity. You are encouraged to discuss the assessment with the tutor you book with and with British Cycling prior to attendance to ensure that you are ready for the day.
Timings
Personal Equipment
Candidates should arrive with their own bike, food and equipment for a day of riding whatever the weather, along with a change of clothes for indoor sessions.
Accommodation and Catering
Our courses are non-residential however, if you require accommodation during the course it may be available onsite (at an additional charge)- please phone to enquire. If accommodation is not available here we will give you details of alternatives available in the area upon request.
We provide hot drinks and other refreshments during the course but meals are not provided – you will need to bring your own packed lunch.
Further Information
For further details on the award please see the British Cycling website.
For written directions see our contact us page or use our grid reference: SK196 710.
Full assessment details will be sent to applicants by email before the assessment date. For further details please get in touch with us.
Please note that British Cycling have set a minimum number of candidates for an assessment to be able to run.  The deadline for bookings for this assessment is 2 weeks before the assessment date.
Please read our course booking terms and conditions.