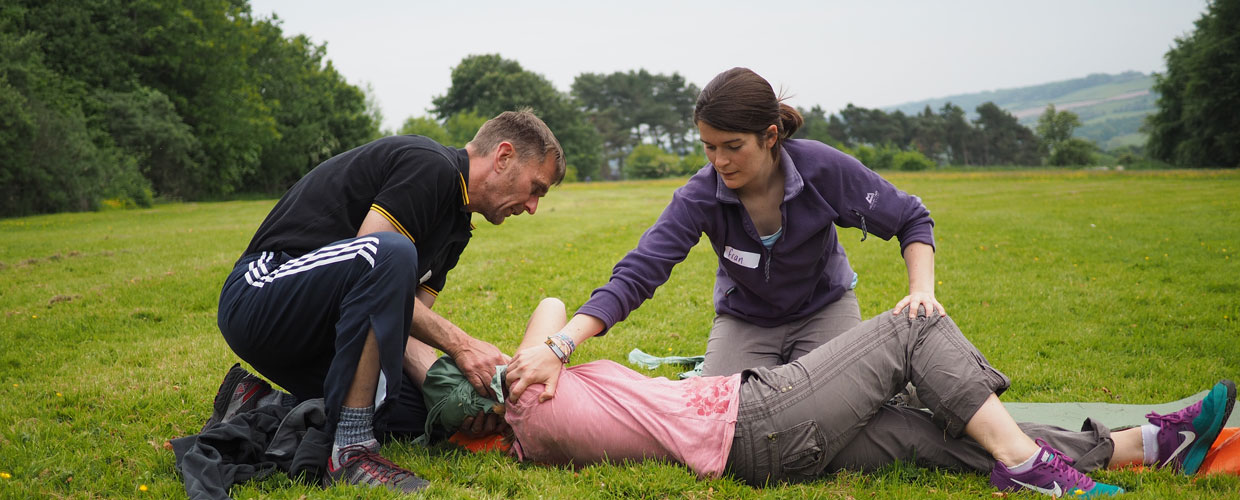 These courses focus on first aid in the outdoors environment and satisfy the requirements of most outdoor National Governing Body Awards including Mountain Training. They involve 16 hours (2 days) of tuition, developing skills throughout this period based on situation assessment and casualty examination and will include an element of assessment.
The aims of the courses are to enable students to recognise when someone has a medical emergency, and be able to immediately give the appropriate assistance at first aid level. The courses aim to keep medical jargon and terminology to a minimum, concentrating on what you do in different situations rather than what you know. To this end students learn a set of general principles, which they can adapt to different situations.
Topics covered will include
Assessments of situation and casualty
Airway, breathing and circulation assessments, including emergency resuscitation
Safe airway position
Dealing with choking
Treatment of severe bleeding and shock
Major injuries, including chest and head injuries
Treatment of breaks and fractures
Environmental injuries such as hypothermia and hyperthermia
Life threatening conditions, such heart attack, asthma, diabetes
Management of emergency situations, including basic casualty movement
Certification
Courses are accredited by Immediate Temporary Care First Aid Ltd (ITC) who are regulated by Ofqual and the SQA.
In order to receive the certificate candidates must attend the whole course and meet the required standard. On successful completion of the course, students will be awarded the Outdoor First Aid certificate, which is valid for three years.
Cost
The full course fee is £120 (£100 for Sheffield school staff) which includes tutoring, a course handbook, use of training materials, course registration and certificate (if courses successfully completed) and refreshments.
Accommodation and Catering
Our courses are non-residential however, If you require accommodation during the course it may be available onsite (at an additional charge)- please phone to enquire. If accommodation is not available here we will give you details of alternatives available in the area upon request.
We provide hot drinks and other refreshments during the course but meals are not provided – you will need to bring your own packed lunch each day.
Further Information
The courses are of a practical nature and will involve "treating" other course members and acting as a casualty, both indoors and outdoors so course members should come with appropriate clothing.
For written directions see our contact us page or use our grid reference: SK196 710.
Full course details will be sent to applicants by email before the course. For further details please get in touch with us.
You can read our course booking terms and conditions here.