Welcoming guests back to the centre
We're so pleased to see overnight guests arriving to stay the night in the Peak District, after the long spell of Covid lockdown. Hurray! One upside of lockdown is that even more people seem to have discovered a love of the countryside. It's great to see how much new visitors to the centre enjoy our location and having the Monsal Trail on their doorstep.
Our instructor team has also been 'springing' back into action (pardon the pun) to lead outdoor activity sessions for young people who have been coming on day visits, adventuring with them in the national park. Slowly but surely, we're starting to see a return to life at the centre, and the team are so happy to welcome visitors back.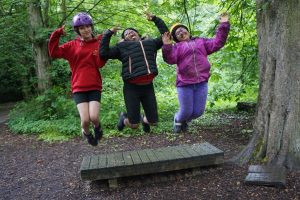 What's new at Thornbridge?
Over the past months, while staying safe and being mindful of the government guidelines, the team has been able to carry out various site improvement projects. They've been tree planting (see below for more on that), redecorating some of our accommodation buildings, and improving our pathways to make the tracks around the site better wheelchair accessible. Thanks to their hard work, the centre's in tip-top condition for its return to action.
We've also had a little help in upgrading the low ropes course to be better than ever before, moving and improving our welly wash area, and ensuring that all accommodation buildings now have a dishwasher.
Safety is our top priority here at the centre. Plenty of Covid secure measures have been put into place to ensure that visitors get full enjoyment out of their trip to the Peak District, while staying safe and being protected at all times. Face coverings are now being worn onsite and all guests and staff are social distancing – with a good dollop of hand sanitiser!
Our enhanced routine cleaning measures are designed to ensure the safety of all guests and staff in the months to come. We're fortunate to have a 30-acre site and self-contained accommodation spaces that naturally lend themselves to distancing, and we hope that many visitors are going to be able to enjoy these in 2021.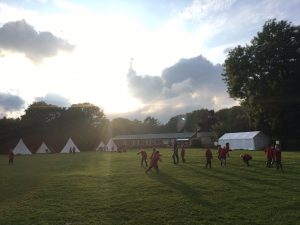 Visitors return to the centre
Between now and 17th May, we're taking bookings for single households/bubbles to stay overnight, and from then to the 21st June (at the earliest), two households/bubbles can come and stay together. Visitors can book to stay in one of our four accommodation buildings, or we have three separate camping areas each with its own facilities. Full information on how you can stay and when, in line with the government roadmap, can be found here.
School visits
All being well, residential visits are due to restart from the 17th May and the team here are excited to get back to fulfilling our mission of 'Widening the horizons of young people through real outdoor adventures in the Peak District'. We've created a webpage outlining the options for school visits here. This page will be continually updated as guidance is released from the DfE.

Outdoor adventure
Our instructor team is raring to go and able to host outdoor learning days either here at the centre, or they can meet you in the Peak District, or travel to a venue of your choice, such as your school, clubhouse or grounds. Almost all of our outdoor activities are able to run in one location or another, and we're keen to work creatively with you to organise a meaningful session of activities for all involved.
Interested in booking or finding out more?
We're really looking forward to more guests and groups coming and enjoying the new and improved centre. If you're interested in visiting, please take a look at the information across our website and email us at info@thornbridgeoutdoors.co.uk, providing a contact number if you prefer to speak to us, or alternatively call 01629640491 and leave a message, and we will get back to you.
Keep well and we hope to see you soon!
From,
Ed and all the TBO team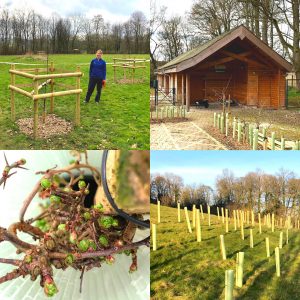 Trees as far as the eyes can see
In recent months, working with the Peak District National Park, with support from the Woodland Trust and colleagues in the parks service, here at Thornbridge we've:
• Planted a new woodland of 1,000 trees at the southern end of the site.
• Planted over 400 new trees around the site to fill in where trees have been removed and create new hedgerows.
• Planted and protected ten six-foot tall trees to improve the landscape and in time provide shelter for guests.
• Resurfaced 100s of metres of crushed limestone paths around the site to help make activities more accessible to those with additional needs.
• Thinned out two acres of established beech woodlands to improve tree health and let light in, to create a more diverse environment on the forest floor.
• In April, planted 420 trees from the Woodland Trust.
As well as improving the site for our human guests, the planting of almost 2,000 trees will in time provide more habitats for a range of wildlife, as well as removing carbon dioxide from the atmosphere.