#WinterResidentials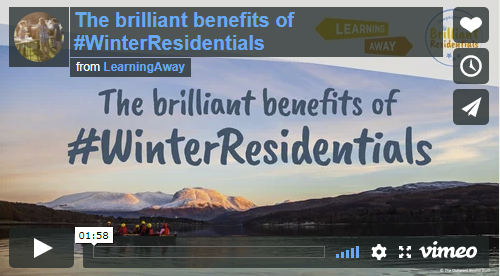 Here at Thornbridge Outdoors we firmly believe that visits can be highly successful whatever the time of year – with each season giving many opportunities for valuable life skills to be learnt – which is why the centre operates throughout the year.
Over the last few weeks hundreds of visiting pupils have been having a fantastic time, despite (or at times because of) heavy rain and cooler temperatures it provides further proof that you can have a brilliant residential in any weather! As a bonus groups haven't had to apply a lot of sun cream and there have been no worries of children overheating…
Residentials in the autumn and winter months:
Enable relationships between young people and school staff to be enhanced over the course of a residential early in the academic year to then benefit learning throughout the rest of the year.
Boost the confidence of pupils early in the academic year.
Can lead to better bonding experiences – a campfire when it's genuinely dark and cold at 6pm in the winter can be much more effective than a warm dusky one at 11pm in the summer.
To encourage and support winter residentials we have:
Made significant investments in recent years to make our buildings more comfortable in the colder weather.
Invested in more waterproof and warm clothing for groups when out on activities. There is no such things as the wrong weather, only the wrong clothes…
Reduced the price of visits that take place between the start of December and February half term.
Greater flexibility in terms of residential visit length and minimum group sizes during the winter months.
We are always looking at ways of making a school residential accessible to all through flexible catering arrangements and programme ideas.
We have availability this coming winter but also support schools to plan ahead by accepting bookings up to 3 years in advance.
If you would like to explore the different options for a residential visit, have an idea that you would like to discuss, or want to check availability please get in touch.
Learning Away have a campaign for Winter Residentials to raise awareness about the benefits of school residentials in the winter months.
---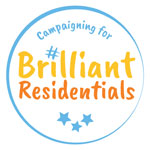 We are supporters of Learning Away's Brilliant Residentials campaign, whose vision is for more children and young people to enjoy residentials and the life changing experiences they offer.
Learning Away spent five years working with 60 schools to get a clear picture of what high-quality residential learning is and have coined the phrase 'Brilliant Residentials' to describe these experiences.
Brilliant Residentials are school trips, with at least one overnight stay, which are:
fully integrated with the school curriculum and ethos
designed and led by teachers and, where appropriate, students
inclusive and affordable for all students
deliberately and collaboratively planned to meet students' specific learning needs and to embed and reinforce learning back in school
part of a progressive programme of experiences
designed to include a wide range of new and memorable experiences
designed to allow space for students to develop collaborative relationships with both peers and staff
evaluated rigorously
supported by senior leadership and school governors.
We can help schools to deliver Brilliant Residentials by providing tailored residential visits where teachers are empowered to take a key role in the planning and delivery to ensure that it is a truly Brilliant Residential.
---
Woodlands availability
We have availability for our Woodlands accessible building throughout the year. Woodlands has a variety of uses and has previously been used for:
Weekend getaways for families and friends, including (or not) disabled family members who need the building's accessible facilities.
As extra accommodation for school groups who are too large for either the Lodge or Farm House but not big enough to need both of them.
As stand-alone accommodation for small school groups from additional needs schools.
In combination with our 4 bed cottage '2 The Woodlands' .
---
Beyond the gates
Did you know that in addition to activities delivered at, or based from our centre, we can also offer experiences at your school, elsewhere in the wonderful Peak District or at venues in Sheffield?
Recent examples include; outdoor learning themed staff training days at schools, first aid training, walking, scrambling, climbing and supporting a group camping near Stanage Edge (who got there by public transport and a beautiful walk).
Get in touch to discuss!