Activity 21 – Cross the Canyon
This week, the instructors here at Thornbridge Outdoors are challenging you to a group activity. You're going to turn yourselves into a sort of human chess board, switching places with other players as much as the rules allow in order to solve the great problem… how do you cross the canyon??
Will your team make it to the other side? Here are the instructions…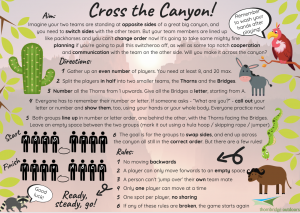 Here at Thornbridge Outdoors, when school groups come to visit on a residential, we often break out this problem solving activity on the lawn (it also goes by the name Traffic Lights or Traffic Jam!). This activity is a really good one for laying out lots of the basic principles of teamwork, like communicating effectively with your fellow players and listening to their ideas too. This is an activity that requires students to work together, not only with their own team, but with the opposite team as well. They need to cooperate with that other team if they're ever going to complete the challenge, as overall success depends on everyone (and we mean everyone!) working together. And this challenge is no walk in the park. All great problem solving activities require you to fail at least twelve time on the road to glory, right? As they say… try, try again!
Teachers/parents/carers:
Please inspire your children/students to really get into the Cross the Canyon challenge. Believe it or not, it is possible to get to the other side and all still be standing in the correct order. We haven't set an impossible challenge… we aren't that mean! You can help by making sure everyone understands the rules before they get started, and encouraging both teams from the sidelines. Some players will naturally take charge but, if you can, please remind them to listen to the voices of all their teammates and make sure that everyone's ideas can be heard and put into practise.
If you can see that the players are embarking on a plan that's doomed to fail, we recommend you let them see it through. That's how everybody learns in the end. We'd only recommend intervening if the players seem to have got stuck and they're making the same mistake again. Then, it might be a good time for you to pitch in with some constructive gameplay advice. If, that is, you have any more of an idea of how to 'cross the canyon' than they do!