Activity 15 – Nature's Treasure Hunt
This week, the instructors here at Thornbridge Outdoors are challenging you to take a journey on the road to discovery! Set off as you usually might on a stroll about your local area, but today… Tread lightly with the footsteps of a fox, stalking its prey. Consider the world around you with a squirrel's quick and cunning mind. Look to the sky, to the ground, and look about you all around, with the all seeing eyes of an owl.
The aim of the game is to uncover treasures in the natural environment around you in your local area, and a treasure can be anything that you imagine! Whether that's a historic looking item which could come from long long ago, or the total opposite it's something futuristic that looks as though it hasn't yet been discovered, or it comes from another planet! Treasure can be shining and sparkling, glittering in the sun. Or, it can be dull and hidden, unseen by the eyes of most people passing by, but not something that you'd miss!
What kinds of treasures will you uncover? Here are the instructions…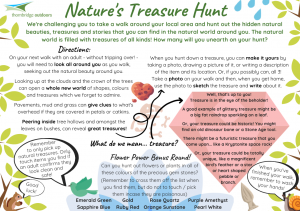 Here at Thornbridge Outdoors, when school groups come to visit on a residential, we can lead them on an assortment of hunt activities around our 30-acre grounds. The grounds are filled to the brim with nature of all kinds! With fields, meadows, hedges and woods, we aren't short of habitats to discover, and children delight in exploring the countryside together.
On a Nature Trail, the group complete a series of environmental activities that leave no sense untouched. They learn about the local wildlife and take part in fun, thought provoking activities along their way.
While on a Mini Beast Hunt, the group search out creepy crawlies that call our grounds home, investigating where minibeasts live and why. This is an opportunity to bring science to life and make real world links with habitats, classifications, and life cycles, inspiring a lifetime of curiosity.
Teachers/parents/carers:
Please inspire your children/students to really get into the Nature's Treasure Hunt challenge. So long as they aren't touching anything dangerous or unclean, and they aren't picking up litter or lost property, then let them loose to explore their surroundings! Unless they do actually uncover something incredible – in which case we look forward to reading about it in the news! – the hunt is less about what they might find, and more about what they can imagine. Twigs and pebbles can be treasure, leaves and raindrops too… anything with a funny shape or colour! It may look like a leaf, and feel like a leaf, but there's far more to a leaf than first meets the eye.
This challenge is a great opportunity for imagination and creative thinking. There are links with art, through photography on the walk and drawing their treasure afterwards, as well as English when they invent the story of their treasure, and write a description for each item.
We encourage you to praise your children/students for successfully social distancing from others while you're out on the work, and reward them for their good hand washing when you get back.