Activity 16 – Let's Get Talking
This week, the instructors here at Thornbridge Outdoors are challenging you to build up a bank of conversation starters that you can have ready up your sleeve, for the next time you're speaking with someone. These could come in handy the next time you get to talk to a friend, either in person or over the phone. You might also find them useful if you meet a friend of a friend who is new to you, or if you're saying hello to a classmate who you haven't talked to very much before.
When you're coming up with questions to ask, it's important to think about things that you like to talk about, because you might find that you have – for instance, Harry Potter! – in common and one question turns into a whole conversation because you both have loads you can say. It's also just as important though to think about the other person and what they might be interested in. If they're polite, they'll probably let you talk about anything, but if you find a topic that they are really interested in you'll know straight away because they'll be the chatterbox all of a sudden!
Will you talk the talk? Here are your instructions…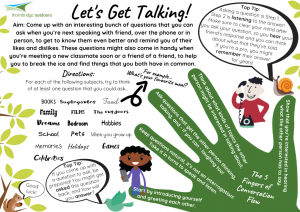 Here at Thornbridge Outdoors, we believe that outdoor education is so much more than just fun and games alone. Adventures and environmental activities with our team, while students are away visiting us in the Peak District, are guaranteed to facilitate lifelong learning and personal development, through the power of the outdoors alone.
Having said that, we do believe that to maximise the benefits of a residential visit, for each student who comes to Thornbridge  Outdoors, it's key that they're prepared at the start of an activity, and they get a chance to evaluate how it's gone at the end of an activity, as well as at the end of their residential. Learning happens at its best when we think in advance about what we might be expecting, and come up with a plan to help us overcome our fears. Then, afterwards, when we can think about what we've done and review how far we've come, as well as considering how we feel about it.
Teachers/parents/carers:
Please inspire your children/students to really get into the Let's Get Talking challenge. We know that so many children are surviving on phone calls with friends, or socially distanced walks when the weather's good, and the excitement of getting to see a friend and speak with them can be a little overwhelming. Even the most budding conversationalists might run out of things to talk about in the heat of the moment, and this activity could save them from a dreaded pause in conversation. It's also great for children who are, or will be, entering into a bubble at school with classmates that they don't know so well. In a smaller group than they're used to in their classroom setting, it's going to be key for everyone to get along and this activity could be a real game changer to help with breaking the ice.
This activity is designed to encourage young people to think ahead and plan a few questions for their next conversation with a friend. You could help by steering the questions to be more open-ended as they write them, rather than requiring a simple yes or no, as this is going to keep the flow of conversation going for longer. You could also help by asking after a few days whether they've managed to use any of the questions, and if the questions have helped them to learn anything new about their friend – if they have, success! If they haven't, perhaps you could revisit their questions together? Or maybe they know how to ask questions, but need your advice on how they can do better at listening out for the answers, and remembering them.