Activity 22 – Rainwater Harvesting
This week, the instructors here at Thornbridge Outdoors are challenging you to help save the planet as you learn how to harvest rainwater, and then put the rainwater that you have collected to great use at home. As they say, 'When it rains, it pours!"… but how much does it actually pour versus the tap in your kitchen, or if you compare it with a hose pipe? Let's find out!
Will you succeed at harvesting some rainwater? Here are the instructions…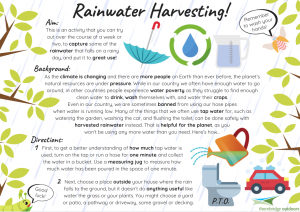 Here at Thornbridge Outdoors, when school groups come to visit on a residential, they won't see a sprinkler system popping up to water our lawn! We're fortunate (we try to remember) with our location in the Peak District, as we're never short of rain to keep our grounds lush and green, so there's no need for Bruce to get out a hose pipe. When school groups come to visit, we try to encourage small planet saving steps that students can carry on when they return home. We ask, for instance, that every student brings a reusable water bottle with them, so there's no need to hand out plastic bottles of water. We also recycle food packaging during a school's visit and, if there's any food leftover once it's time to head home, we make sure that it doesn't go to waste (we've never once let a jaffa cake go to waste!).
Teachers/parents/carers:
Please inspire your children/students to really get into the Rainwater Harvesting challenge. A rainy day indoors doesn't have to be a bad thing anymore, if their collection system is filling up outside! Try to encourage creativity with the objects that they try outside – some are going to work better than others at collecting rainwater, and it isn't easy to guess which ones will be a hit until you try different ones out. Just be careful that nothing is going to blow away, as it can be windy out! Help your children/students to measure the amount of rainwater they capture versus the tap water that you might normally use, and then put the rainwater to great use instead of running the tap. If you can, link this activity in with a bit of learning on everyday approaches that we can all take to reducing, reusing, and recycling our resources. Good luck!