Activity 19 – Blueprints
This week, the instructors here at Thornbridge Outdoors are challenging you to a test of your communication skills. Get together with a friend, or with your brother or sister, and let's see if – when you're both listening carefully and speaking thoughtfully – you can become masters of communication! Your words will be the blueprints that guide your friend's pencil towards success.
Are you ready to put your talking to the test? Here are the instructions…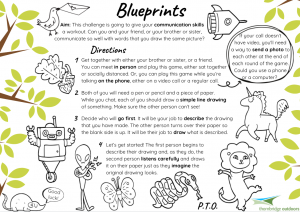 Here at Thornbridge Outdoors, we encourage students to communicate with each other during all our outdoor activities, as teamwork is often the key to success! Communication is one part speaking up, and another part listening to others. Some students find it difficult to make their voice heard, while others struggle to listen out for instructions from our team or for help from their classmates. But, no person is an island and, ultimately, they need to work together to succeed. If it all goes to plan, by the coach ride home, students should feel more confident to speak with classmates who aren't in their normal friendship group and who they may not have said hello to before.
Teachers/parents/carers:
Please inspire your children/students to really get into the Blueprints challenge. If they play one round of the game and succeed, then you could challenge them to make their drawings more difficult for next time (or, vice versa!). If the child in charge of describing goes quiet, you could prompt them with open-ended questions to help keep their description words flowing, ie. What is the dog's fur like, how would you describe it? What shape are its ears? And how long is its tail?