Activity 11 – Lava Pool
This week, the instructors here at Thornbridge Outdoors are challenging you to cross a treacherous lava pool, stepping from rock to rock to avoid falling into a pool of molten lava! You'd better tread carefully or… BANG! you'll sink beneath the lava and the volcano will erupt. That means back to the beginning for you! The key is to try and remember where you stepped last time, so that you won't make the same mistake twice. But when all eyes are on you and all the steps look the same, it's easy to get lost once again in the Lava Pool.
Ready to walk into dangerous territory? Here are the instructions…
Schools version – View/download here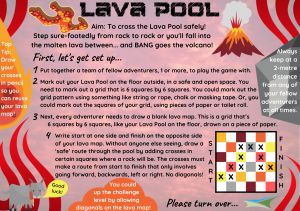 Home version – View/download here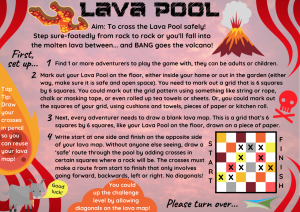 Here at Thornbridge Outdoors, we call this activity the Minefield Maze. When school groups come to visit, they work together in teams to face this challenge and solve the problem of how to safely navigate across the field… it's not as easy as it might seem!
Teachers/parents/carers:
Please inspire your children/students to really get into the Lava Pool challenge. As well as shouting BANG with loud gusto, there's a lot of fun to be had with theatrical deaths too each time the volcano erupts! Keep the imaginary molten lava aspect of the game alive and praise anyone offering help and encouragement to the adventurer walking the Lava Pool, a little team spirit can go a long way. This isn't a solo player game – fellow adventurers can shout up if it looks as though you're about to put a foot in the wrong direction, everyone can help each other to make it to the other side.
Teachers, as ever, keep praising those students who remember their social distancing even when they're playing this game, and who make a special effort to keep apart at all times.