The Best of the Mini Dens
It's time to announce the winners!
This week, the instructor team here at Thornbridge Outdoors have set YOU the challenge of building your very best mini den. We've seen some fantastic photos of your mini dens over the past few days and we've been really impressed with how much hard work and energy has gone into building them. 
In particular, the instructor team have been looking for entries with lots of character, artistic interpretation, and imagination about them. They'd meant to choose the Top 5 winning entries to show on the website, but a sixth entry has also snuck in! Here are the winning mini dens…
Congratulations!!!
And it isn't too late to build your own mini den at home. If you'd like to give it a go, you will have to work very carefully, and imagine that you have become mini yourself, shrinking down down down. This mini den of yours can be built inside your house, or it could be built outside in the garden. The den is going to be home to a character of your very own choosing…
Here are our directions on how to get started and TOP TIPS for a marvellous mini den
Then, once you have finished your mini den, here is an activity sheet to complete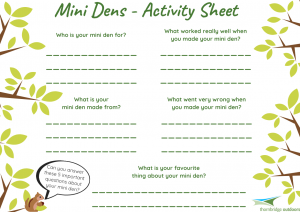 Den building is a popular activity on visits here to Thornbridge Outdoors. Sometimes students make full-size dens to shelter themselves and a friend in, and sometimes they make mini dens, which are the perfect size to shelter the small pebble animals they have created. Teachers have sometimes been known to test how waterproof the full-size dens are by asking student to get inside and then chucking a bucket of water over the top!
Parents/carers:
If you like, please share a sentence on social media from your child describing the mini den they have made, and the character who lives inside, along with a photo of their character inside the mini den, and tag us using '@thornbridgeout' so that we can see your entry.
(Please note: We'd like to share your mini den photos to our social media channels, to provide inspiration for others and to show off the great den making skills that we're seeing! Please bear that in mind when tagging us – only do so (if your child/home/garden is in the photo) if you'd be happy for us to share the image.)