Activity 10 – Pyramid
This week, we're travelling back in time to Ancient Egypt to try our hand at pyramid building. The instructors here at Thornbridge Outdoors are challenging you to construct a pyramid yourself, and then imagine that you have to relocate it to avoid a sudden plague of locusts! Without breaking the key rules, how will you shift your pyramid to another spot across the Nile river, where the Egyptian Gods are looking down on you favourably? You can use a third spot as a go between for your pyramid transport, although it is prone to mummy attack so you might not want to linger too long…
Ready to be a Pharaoh and relocate a great pyramid? Here are the instructions…
Schools version – View/download here
Home version – View/download here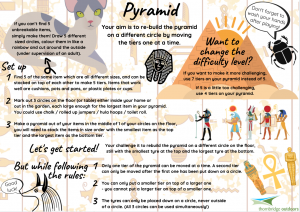 Here at Thornbridge Outdoors, we call this activity the Tyre Pyramid. When school groups come to visit, they work together in teams to solve the problem of how to shift their stack of tyres from one spot to another… which isn't as easy as it might seem!
Teachers/parents/carers:
Please inspire children/students to really get into the Pyramid challenge. Even if at first it might seem totally impossible… we promise you it isn't! Encourage them to persevere and give different tactics a go, there's bound to be one that works out eventually. This challenge is a problem solving task, so it will require logical thinking and a bit of vision. The challenge is also a team building one – that applies whether they're working together in a team and it's a joint effort to solve the problem, or if they're working individually but can call out with tips and advice to help each other along.
Teachers, as ever, keep praising those students who remember their social distancing even when they're playing a game like this, and who make a special effort to keep apart at all times.