Activity Week 5 – Wizard's Rainbow Colour Hunt
This week, the instructor team here at Thornbridge Outdoors are handing over the baton for their weekly activity challenge… to a great wizard instead. A wizard whose magical powers enable them to command every colour of the rainbow. Spring is in full swing and this challenge will require you to look very very closely at your surroundings – which are rarely one colour. The wizard is challenging YOU to become a detective, and look at the detail of the world around you!
You can take part in the Wizard's Rainbow Colour Hunt indoors, exploring the world around you at home. Or, you can take on the challenge outdoors and become a nature detective as you hunt for the colours, either in your garden at home or in the school grounds. Will you find every colour of the rainbow in your surroundings? Or will there be a troublesome colour that proves too tricky to find?
Ready to explore the rainbow? Here are the instructions…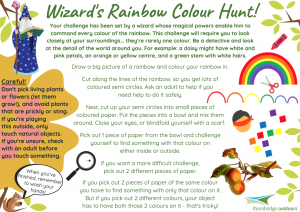 Our Thornbridge Challenge is a series of activities (to which the Rainbow Colour Hunt is new addition!) that lots of children enjoy taking part in on school visits here to Thornbridge Outdoors. During their residential, the group are challenged to work together as a team to take on the Wizard's challenges, including a tunnel system, rope swing, giant seesaw and more, to earn stars, collect clues and hopefully discover the hidden treasure!
Who doesn't like a treasure hunt, eh? And when it's devised by the cunning instructor team here at Thornbridge Outdoors, it's not going to be easy to solve! The challenges are normally spread all around our site and everybody has to get stuck in; there's a big focus on team working and communication skills throughout. We've adapted our colour hunt here so that everyone can join in at home or at school, and whether they're indoors or outdoors. We hope you have fun!
Teachers/parents/carers:
Please encourage children/students to really explore their surroundings. The key to success in this challenge is to look at the fine detail, often we see something and assume it's all one colour, but when we look really closely at the detail we see it's made up of lots of colours, and what better time to look for colours than in Spring. When they're taking on the Colour Hunt challenge – anything goes so long as it's safe and more or less matches the colour (or colours) that they're hunting for!
Perhaps you could praise them for thinking outside the box? Or, for not giving in even if at first it seems as though they've drawn something which is going be impossible to find? And for helping their classmates out with ideas, or pointing their siblings in the right direction if they're struggling?
If the Colour Hunt challenge is a success, please share a photo to social media of their rainbow coloured findings, and tag us using '@thornbridgeout' so that we can see what they managed to find. We're ready to be wowed by some pretty colourful photos!
(Please note: We might like to share your post about the Colour Hunt challenge to our social media channels during the week, to provide inspiration for others and to show off the rainbow coloured photos that we're seeing! Please bear that in mind when posting – only include your children/students and home/garden in the photo if you'd be happy for us to share the image.)