Activity 9 – Recycling Towers
Rather than taking your plastic and cardboard recycling out… build it up! This week, the instructors here at Thornbridge Outdoors are challenging you to take on a big build using only recycling. If you wait until you have lots of recycling ready to be taken out to the bin, then rescue it on its way, you'll have everything you need to take on the activity Recycling Towers. 
The instructors are challenging you to build your recycling up as far as you can go without it all coming toppling back down. You'll probably have to try this all sorts of different ways, before you find one that's solid and stable, but also tall too. Good luck!
Ready to take your recycling to great heights? Here are the instructions…
Schools version – View/download here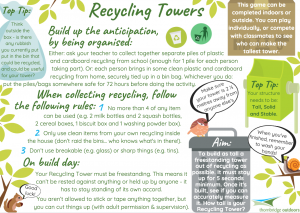 Home version – View/download here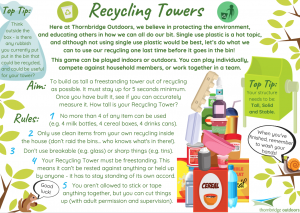 Recycling Towers is a new spin on a classic problem solving task that we run for school groups when they visit us at Thornbridge Outdoors. We sometimes ask groups to do this challenge with just paper and sticky tape, or occasionally with dry spaghetti and marshmallows! Whatever the building materials, this classic activity is always going to involve creative thinking and problem solving if the teams want to build higher and higher with their towers. Students also need to be resourceful and resilient – they have to be prepared to try crazy ideas, and also prepared to start again if those crazy ideas bring down the tower! This activity promotes teamwork through and through – we encourage every student to speak up with their ideas, to listen to others in their team, and (if it all turns out well in the end!) to celebrate their success together.
Teachers/parents/carers:
Please inspire children/students to really get into the Recycling Towers challenge. There's no time limit on this challenge, and no limit to how high they might imagine their tower can get! Try encouraging them to think about the different sizes, shapes and weights of the objects in their recycling pile, and how those items might be better suited to one part of a tower or another, like either at the base or at the top. Keep reminding them, too, that their structure needs to be: tall, solid, and stable. A combination of those 3 elements is the key to success, and it's easy to get too focused on one or two, and forget another. e.g. "If you filled a big 2-litre bottle with water, would that be more or less stable than your tower? What makes you think that?"
Teachers, as ever, keep praising those students who remember their social distancing even when they're playing a game like this, and make a special effort to keep apart at all times.