Activity Week 2 – Scavenger Hunt
This week, the instructor team here at Thornbridge Outdoors are challenging YOU to a scavenger hunt on the playground, in your house, or out in the garden. In order to take part in this scavenger hunt, imagine that you live out in the wild and – just like a wild animal – your survival depends on whether or not you can hunt for everything that you need in order to survive. We've adapted our Thornbridge Outdoors scavenger hunt so you can play along at home or at school. Will you be able to scavenge everything from the list before time runs out??
Here are our instructions on how to get started and your list of items to hunt for
Schools Version – View/download here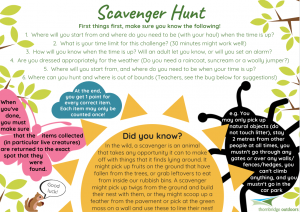 Home Version – Scavenger Hunting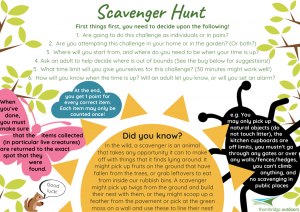 Scavenger Hunting is an activity that you can take part in on school visits here to Thornbridge Outdoors. When you arrive on a residential, a scavenger hunt can be a great excuse for students to run around and explore the new nature filled Peak District environment that they find themselves in. Some schools ask students to select their favourite scavenged items afterwards to adorn dream catchers they will weave from willow and wool during their visit. Other schools scavenge 'on the go' – they lead a hunt as part of a walk around the grounds of Thornbridge Outdoors and ask students to collect up interesting items that they spot during the walk, in order for each child to make a journey stick afterwards to tell the unique story of their experience.
Teachers/parents/carers:
Please encourage creativity when your children/students are searching for items to fit each category – anything goes so long as they can explain why it makes sense, there isn't anything too silly to gather up! Perhaps you could award bonus points for thinking outside the box? And for helping their siblings/classmates out with ideas if they've got stuck with something on the list?
If the scavenger hunt is a success, please share a photo to social media of the haul of scavenged items when the time is up, and tag us using '@thornbridgeout' so that we can see what was scavenged. We're already expecting the unexpected!
(Please note: We might like to share your post about the scavenger hunt to our social media channels during the week, to provide inspiration for others and to show off the great scavenger skills that we're seeing! Please bear that in mind when posting – only include your children/students and home/garden in the photo if you'd be happy for us to share the image.)