Activity Week 7 – Spider's Web
This week, the instructor team here at Thornbridge Outdoors are challenging you to climb through the holes in a spider's web, without waking the spider! Watch out though as there are only so many times you can wobble the web before the spider will wake up and see you with one of her many, many eyes. It's important to tread very carefully in this challenge and to work together to avoid getting caught like a fly!
Ready to sneak by the spider? Here are the instructions…
Schools version – View/download here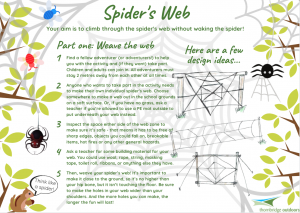 Home version – View/download here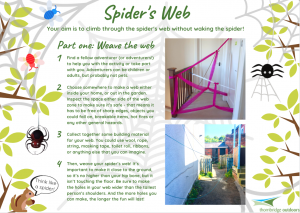 At Thornbridge Outdoors, lots of children have managed not to wake the spider on their school residential by successfully completing the Spider's Web challenge as part of their problem solving sessions. As well as team work and creative thinking, the task also challenges a child's balance and coordination skills.

Teachers/parents/carers:
Please inspire your children/students to really get into the Spider's Web challenge – from the weaving of the spider's web, right through to them squeezing through the final hole in the web. Perhaps prompt any adventurers who aren't climbing through to shout up with help and advice from the sidelines, and – if this challenge is being taken on at home and they can physically help the adventurer – then praise them for lending their assistance in a safe manner. Bonus points if they're offering up support and encouragement throughout.