Activity Week 6 – Touch, don't look!
This week, the instructor team here at Thornbridge Outdoors are challenging you to work together with a partner to explore the world using your four senses other than sight. When one of you is blindfolded and can't see anymore, how will your partner guide you about safely and steadily? And how will you identify the object beneath your fingertips… how does it feel?
Ready to surrender your sight? Here are the instructions…
Schools version – View/download here
Home version – View/download here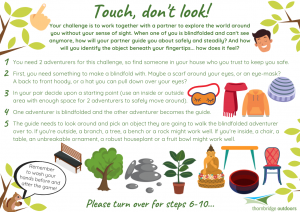 This game has been adapted from the 'Hug a Tree' challenge that can students take part in on our Nature Trail, when they come on a visit to Thornbridge Outdoors. As well as encouraging the students to explore their senses and investigate the natural environment around them, the challenge promotes trust between the student who is blindfolded and the classmate who is their guide. The instructor team have adapted the rules here to create a version that is suitable to play at home or at school, and we hope you have just as much fun!
Teachers/parents/carers:
Please inspire children/students to really get into the Touch, don't look! challenge – perhaps prompt the Guide to choose an object that will be really challenging for their partner, and encourage the Blindfolded Adventurer to have a go at guessing the answer, even if they're not sure. Perhaps you could praise them for thinking outside the box?
The challenge might be a good cue for a conversation about your surroundings, and how different they seem when you inspect them using different senses! Some items may be easy to identify through touch, while others might feel nothing like you'd have imagined! The same can be said for your hearing, smell and taste. If the challenge is a success, your blindfold could be used for a range of spin off games designed to investigate each of those senses one-by-one, too.