Activity Week 8 – Manic Alphabet
This week, the instructors here at Thornbridge Outdoors are challenging you to work together in a team at high speed in a race that will test not only your knowledge of the alphabet, but also your agility, your fitness, and how you pull together as a team! The letters of the alphabet will be laid out right before your eyes, but when it's all go go go and you're locked in a race against the clock, are you going to be a fast fingered (or footed!) pro, or will you be the one left floundering?
Ready to take on all 26 letters of the alphabet? Here are the instructions…
Schools version – View/download here
Home version – View/download here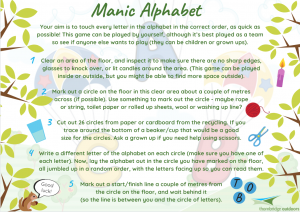 This game is based on the very popular problem solving task called "Manic Numbers" run by both instructors and group leaders here at Thornbridge Outdoors, which lots of children take part in on their school residential. For this task, the class work together in teams of up to 12 and, instead of the alphabet, they take on numbers as you can go way way beyond 26! 

Teachers/parents/carers:
Please inspire children/students to really get into the Manic Alphabet challenge. Ask them to call out a letter as they touch it, so you can listen to hear that they've got the letters in the correct order and they aren't missing any out. You'll need to look out to check that the letter they're touching is the right one, and keep an eye out to check that they're being careful too as, if they're too hasty and they move any letters when they touch them, you can call them out on that (It's breaking the number one rule!) and they have to go back to put the letters right again.
Please encourage the team to challenge one another, whether that's to be quicker next time, or whether it's to take on the spelling of a difficult word. And encourage them to support each other too – if someone gets stuck on a letter or if they make a mistake, there's nothing wrong with that it's all part of the game! The team can cheer each other on and shout up with help and advice.
Teachers, as ever, keep praising those students who remember their social distancing even when they're playing a game like this, and make a special effort to keep apart at all times.