Activity Week 4 – Roller Ball
This week, the instructor team here at Thornbridge Outdoors are challenging YOU to a Roller Ball challenge either inside, outside or even from the inside to the outside! How far will your Roller Ball travel? For this challenge you will need to be inventive – what materials can you gather together that will send a ball rolling successfully from start to finish, without getting stuck or falling to the ground?? The wackier the better!
Ready to build a really fun Roller Ball run? Here are the instructions…
Schools Version – View/download here
Home Version – View/download here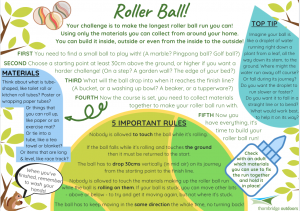 Roller Ball is an activity that lots of children enjoy taking part in on school visits here to Thornbridge Outdoors. When residential groups come to stay, and take part in roller ball everyone gets to take one piece of drainpipe and the team gets 1 small ball. The team has to work together to roll the ball from one piece of pipe to the next, running ahead once the ball has passed through their pipe to catch the ball again further along!
The team have adapted the Roller Ball activity here so that it's easy for you to take part. If you are still at school you could play it in the playground, If you are at home you could play it in your house, or out in the garden. But will you succeed??
Teachers/parents/carers:
Please encourage children/students to be inventive when they're taking on the Roller Ball challenge – anything goes so long as it's safe and they can imagine it might work. Some ideas will fail, others will turn out to be a surprise success! Perhaps you could praise them for thinking outside the box? And for helping their classmates out with ideas, or giving their siblings a hand if they're struggling?
If the Roller Ball challenge is a success, please share a photo to social media of their Roller Ball run, and tag us using '@thornbridgeout' so that we can see their creation. We're ready to be wowed! Bonus points if you can capture a video of the ball rolling from the start to the finish, so we can see the Roller Ball run in action!
(Please note: We might like to share your post about the Roller Ball challenge to our social media channels during the week, to provide inspiration for others and to show off the great creations that we're seeing! Please bear that in mind when posting – only include your children/students and home/garden in the photo if you'd be happy for us to share the image.)